Calendar of Events
January 13, 2013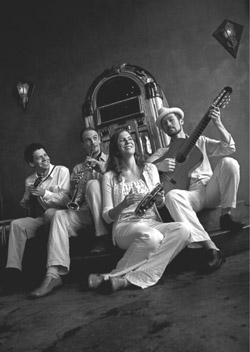 Grupo Falso Baiano members Zack Pitt-Smith (reeds), Brian Moran (7 string guitar/mandolin/cavaquinho), and Ami Molinelli (pandeiro/percussion) discuss choro essentials for those new to the genre, their experiences playing in Brazil and the US, as well as strategies for arranging classic choros, different grooves and articulations, the roles of the different instruments, playing in choro jam sessions (rodas) and more. This workshop is participatory, so bring your instruments!
Grupo Falso Baiano was created by Pitt-Smith, Moran and Molinelli in 2003 to explore modern and old school choro. They have played throughout CA at clubs and in festivals over the years. Their 2008 release Viajando Choro e Jazz was produced by Michael Spiro, and featured special guests Jovino Santos Neto, Mike Marshall, Jorge Alabe among others. Their second CD Simplicidade: Live at Yoshi's was released in August of 2011. www.grupofalsobaiano.com for more info.
$30 advance purchase/$45 day of the workshop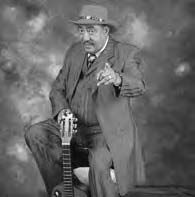 Come meet the Cuban tres and get a taste of the minor percussion instruments associated with Afro-Cuban rhythms. The Cuban tres is a guitar-like instrument with three double strings (six in all). It plays a key role in the Cuban "son," the heartbeat of salsa. The minor percussion instruments include the maracas, guiro (gourd scraper) and clave sticks. Learn how these instruments weave together to create the rich polyrhythms of Afro-Cuban music. This workshop includes an explanation and hands-on demonstration of the Cuban tres, and a demonstration of the techniques used in playing claves, maracas and guiro. Time permitting: a descarga (jam session) with all of the instruments. Open to all musicians.
Heriberto "Tito" Gonzalez, "El Tresero mayor," arrived in the San Francisco Bay Area in the summer of 2000. His music is typical and primarily "El Son," as exemplified by the Buena Vista Social Club. Tito studied with Tres master Papi Oviedo of the Buena Vista Social Club and then with the greatest guitarist in Cuba, Octavio Sanchez Cotán. He has played with such famous Cuban groups as Conjunto Estrellas de Chocolate, Aribu Quartet and Chapotin y sus estrellas, all from Havana, Cuba.
$30 advance purchase/$45 day of the workshop
French 'soul-jazz' organist Michel Bénébig is a master on the Hammond B3, in the tradition of great jazz and blues organists Jack McDuff, Jimmy McGriff and Jimmy Smith, George Jones on percussion. Performing with vocalist Shem, Bénébig presents originals alongside classic jazz and blues.



iCal Import