Calendar of Events
December 15, 2012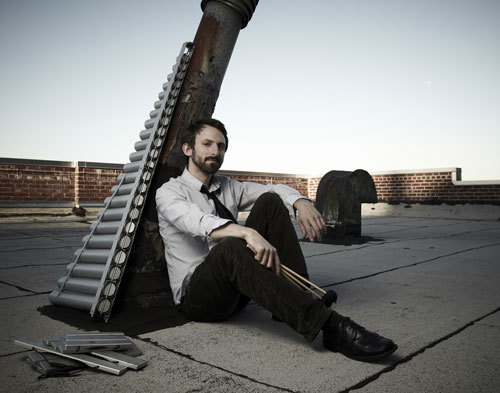 Influence and Inspiration: Behind the Scenes of a Tribute to Bobby Hutcherson
In this hands-on, experiential workshop, vibraphonist and composer Chris Dingman demonstrates how his playing and compositions are influenced by jazz legend Bobby Hutcherson, through a short performance and multimedia presentation.  Students are then invited to participate in group exercises, discussion, and performance, all focused on tapping in to creative inspiration through the study of the music that influences us the most.  Students will gain insight into the process of self-discovery through their love of the music of the masters, and will take away specific exercises and methods to use in daily practice.
Saturday December 15, 3:15 – 4:45 pm
$30 advance purchase/$45 day of the workshop
Chris Dingman

Hailed by the New York Times as a "dazzling" soloist and composer with a "fondness for airtight logic and burnished lyricism," Chris Dingman is one of the most sought-after vibraphonists of his generation. Schooled in the jazz tradition, yet influenced by a wide range of music and experience, Dingman draws inspiration and meaning from a diverse set of musical sources, uniting them in a progressive approach that has earned him praise for his "poignant work" (David Sprague, Variety), his "adaptive humility" (Nate Chinen, NY Times), and as "downright hypnotic" (John Barron, All About Jazz). He has performed and studied with many of the world's greatest jazz musicians, including Herbie Hancock, Wayne Shorter, Benny Golson, Jimmy Heath, and many others. Now based in Brooklyn, NY, he is currently working with many of the leading lights on the jazz and creative music scene, both as a sideman and as a leader. His debut album, Waking Dreams, has been called "gorgeous" (Time Out NY), "brilliant" (All About Jazz), and "deeply lyrical" (NY Times). Stereophile calls it "a very big, pleasant surprise" and the Los Angeles Times commends: "rich and full of unexpected twists but never less than approachable, Waking Dreams casts an atmospheric spell true to its name."
Presented in collaboration with SFJAZZ.

Henry Moser Group has been tearing up the Bay Area funk, jazz and rock scenes, getting audiences on their feet and dancing while gaining notice for singer/songwriter Henry Moser's unique and catchy blend of pop, folk melodies and jazz harmony. The dynamic quartet balances softer, introspective sections with energetic, grooving improvisation. For this special Jazzschool performance, Henry Moser Group debuts songs from the their debut album, out this spring on Jazzschool Records. Featuring Henry Moser, guitar and vocals; Chris Sullivan, alto sax; Tommy O'Mahony, bass; and Nick De Ryss, drums.









iCal Import